Please note that, with huge apologies, the morning session of this event has been cancelled as some of the participants are now unable to attend. The afternoon session, and lunch, are going ahead so please do join us if you can!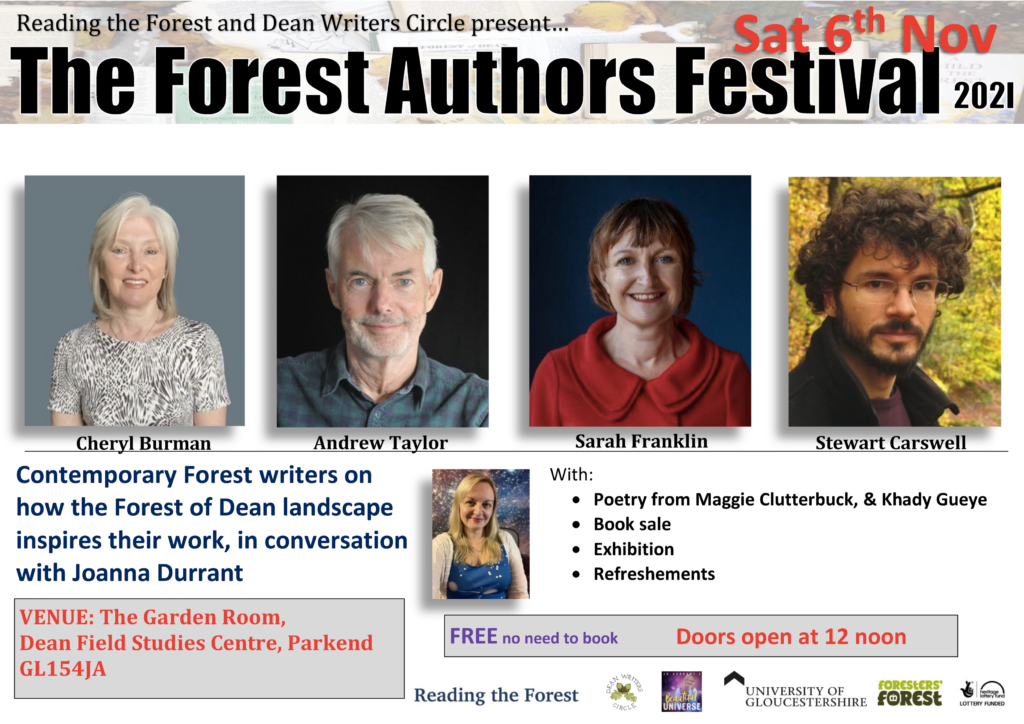 Hear how today's creative writers view, appraise and re-interpret Forest authors and writers from the past. What do Winifred Foley, Flora Klickmann, F.W. Harvey and other Forest authors mean to the Forest writers of today?
Meet two of the Forest's most successful contemporary authors, and one of its contemporary poets. Ask Andrew Taylor, Sarah Franklin and Stewart Carswell about their work, current projects and what the Forest of Dean means to them, and Joanna Durrant about interviewing authors at the Cheltenham Literature Festival, working in radio, and her award-winning Beautiful Universe podcast.
Hear authors Andrew Taylor, Sarah Franklin, Stewart Carswell, and Cheryl Mayo in discussion with Joanna Durrant on how the Forest's landscape, people and events inspire their work. Is it a comforting refuge, gothic forest, or biosphere? Pose your questions to the panel too.
VENUE: The Dean Garden Room is in the historic Forest of Dean village of Parkend, overlooking woodland and near to the Dean Forest Railway.
The Dean Garden Room, Dean Field Studies Centre, New Road, Parkend, Glos. GL154JA
BOOKING: Please confirm your participation by using the Booking Form available from the Events page at either readingtheforest.co.uk OR
deanwriterscircle.com The day is free, courtesy of Reading the Forest and The Foresters' Forest Landscape Partnership Programme funded by the National Lottery Heritage Fund.

PROGRAMME FOR THE DAY

The Forest Authors Festival 2021 Sat 6th Nov
12.15pm Plenary Discussion
12.30pm LUNCH BREAK
1.30am Opening remarks and Poetry Reading
Afternoon, chaired by: Reading the Forest
1.45pm Meet the Authors
An opportunity to meet and ask writers who have been influenced by the Forest of Dean about their approaches to their work, writing styles, how they research their books, and where they go to write. Also discover the secrets of the Cheltenham Literary Festival. These groups will run in parallel so
please use the booking form to indicate preferences.
Group 1: Sarah Franklin
Group 2: Andrew Taylor
Group 3: Stewart Carswell
Group 4: Jo Durrant
2.20pm BREAK
2.45pm Panel Discussion
Chaired by Jo Durrant, and featuring authors Andrew Taylor and Sarah Franklin, poet Stewart Carswell, and Cheryl Mayo author and chair of Dean Writers Circle. How does the Forest of Dean inspire authors today? What does it offer to storytelling today? Is the Forest a refuge, a dark place or a biosphere? Jo and the panel will explore the relationship of their writing to the Forest of Dean.
3.15pm Your Questions
3.30 Close with Poem for the day
THE AUTHORS
Sarah Franklin
Sarah grew up in the Forest of Dean and has lived in Austria, Germany, the USA and Ireland. She lectures in publishing at Oxford Brookes University and has written for The Guardian, Psychologies magazine, The Pool, the Sunday Express and the Seattle Times. Sarah is the founder and host of Short Stories Aloud, and a judge for the Costa Short Story Award. Sarah lives in between London and Oxford with her family. She is the author of the novels Shelter (2017) and How to Belong (Nov 2020).
Andrew Taylor
Andrew lives in Coleford and is best known for his crime and historical novels, which include the Lydmouth series, the Roth Trilogy and historical novels such as the number-one best-selling The American Boy and The Ashes of London. His accolades include the Diamond Dagger, Britain's top crime-writing award. The Gold Crown of the Historical Writers Association and many other awards. He has written nearly fifty books three of which have been televised.
Stewart Carswell
Stewart Carswell grew up in the Forest of Dean and currently lives in Cambridgeshire, where he organises the Fen Speak open mic night. He studied Physics at Southampton University, and has a PhD from the University of Bristol. His poems have recently been published in Under the Radar, Envoi, Ink Sweat & Tears, and The Fenland Reed. His pamphlet Knots and Branches was published in 2016, and his debut collection Earthworks is being published by Indigo Dreams in October 2021.
Cheryl Mayo
Cheryl is chair of Dean Writers Circle and a founder of Dean Scribblers, which encourages the creative writing spark in young people. Originally from Australia, she moved to the Forest of Dean in 2008 and was inspired to write. Under her pen name of Cheryl Burman, her flash fiction, short stories and bits of her novels have won various commendations, including long listing for the Historical Writers Association 2020 short story competition. Her most recent release is Keepers, a women's fiction novel set in Australia in 1950, but her current project is firmly grounded in the rich heritage of the Forest and the Severn.
Joanna Durrant
Jo is the presenter and producer of the Jo Durrant's Beautiful Universe arts and science podcast which won the Sir Arthur Clarke award for Space Achievement in the Media in June 2021. Jo also works as a producer for BBC Radio Gloucestershire and has worked with Reading the Forest producing and presenting the radio series Women Writers of the Forest of Dean and 100 years of Forest Literature. Jo has been interviewing authors at the Cheltenham Literary Festival for over a decade including Alan Bennett, Brian May, Helen Sharman, Chris Hadfield, Christopher Ecclestone, Alison Steadman, Lenny Henry, Henry Winkler, Alice Roberts, Jojo Moyes, David Nicholls, Sue Perkins, Emma Freud & Richard Curtis. Her career highlight was speaking to astronaut Tim Peake live in space!
As mentioned on the poster there will be books for sale by various authors including those in the Dean Writers Circle.
Please come laden with loads of cash to purchase a varied selection of wonderful books. Remember Christmas is coming soon and a book is the best present. All your worries solved buy books.